Open hours
Mon - Fri: 9.00 - 19.00
Sat - Sun: day off
Shipping
Courier (Minsk)
BelPost Int.
Pick up from store (Minsk)
Belarus Post Tracking
EMS
Product Description
All Skin Types
Hamamelis und Rosskastanienextrakt

Evens skin tone • Strengthens capillaries • Intensively moisturizes

---
This moisturizing fluid for all skin types helps to strengthen capillaries which results in a even skin tone and reduced redness. The extract mixture of ivy, horse chestnut, hop and arnica provides blood vessel strengthening and prevents spider veins. Extracts of white lily, suma and muira-puama increase lymphatic drainage and reduce skin reactivity. Beta-glucan and hyaluronic acid give intense moisture.
Your Reviews
Skin type: Чувствительная
Age: 48
Дарья
Skin type: Комбинированная, чувствительная
Age: 28
Main Ingredients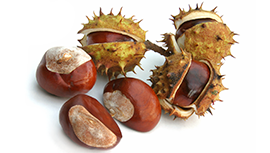 Aesculus Hippocastanum Extract
Horse chestnut is known for its ability to strengthen veins and blood vessels as well as for its stimulating effect on the blood circulation. The horse chestnut seed extract has anti-inflammatory, anti-edematous, astringent properties. These properties can have a very positive influence on the skin´s vessels and can counteract light skin redness on the face. Saponins, such as escin, decrease capillary permeability and fragility and therefore help to relieve bruises, to prevent leakage of fluids into surrounding tissues, which can cause swelling.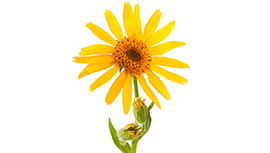 Arnica Montana Extract
Arnica Montana Flower Extract is an extract of the flowerheads of this plant. Arnica is now one of the most popular medicinal plants in the world for its anti-inflammatory properties. Arnica montana is also able to protect the skin from all of the damage that free radicals would have otherwise caused, to help heal the different types of woulds.
Betaine
Betaine is a naturally derived ingredient, an amino acid.  Also known as Trimethylglycine or glycinebetaine. It is obtained from the process of making sugar out of sugar beets. Being an osmolyte, its structure allows to attract water and help maintain cell water balance. Betaine reduces the ability of water molecules to solvate proteins, thus stabilizing the native protein structures.  It primarily functions as a humectant and anti-irritant in cosmetic products, is prone to hydrogen bonding. It is identified as anti-melanogenic agent. Accumulated evidence has shown that betaine has anti-inflammatory functions in numerous diseases.
Betula Pubescens Extract
The plant extract of Betula provides anti-irritant, anti-oxidant and properties for hair and skin care preparations. It is used a light astringent, softening, calming, disinfecting agent. It helps balance the pH level, can improve the complexion increasing facial blood circulation. An ideal choice for sensitive and acne-prone skin.
Hedera Helix (Ivy) Extract
The active ingredients of Ivy Extract, the hederinsaponins, penetrate skin to a substantial degree. It has strengthening effect on the capillares. It is cosiderate to combat cellulite and prevent spider veins. It has the ability to dissolve the hydrolipid areas of the body, reducing the fluid retention and removing it from the body.
Humulus Lupulus Extract
In facial products, hops, made from the flowers of the Humulus lupulus plant, are a calming agent. They are high in tannins, which can help reduce inflammation, skin scarring. Hops are also great for mature skin by inhibiting the elastase enzyme that is responsible for causing cross-linking in collagen, leading to premature skin aging. it helps to balance moisture levels in the skin. Hop is one of the plants containing phytohormones in large quantities, can fight with hypertrichosis - excessive growth of facial hair. The extract of hops is traditionally used in hair conditioners, while normalizing the fat balance of the scalp, activating metabolic processes in the epidermis, fighting dandruff and hair loss.
Persea Gratissima Oil
Avocado Oil is clear, yellow-green oil obtained from the avocado fruit. vocado Oil is rich in triglycerides of oleic acid and contains lesser amounts of palmitic, linoleic, and palmitoleic acids, what are the individual components of all lipids. Full of vitamins A, D, and E as well as omega 9 fatty acids. It's useful both for it's anti-aging properties as well as protecting from the effects of pollution and exposure to UV light.
Avocado oil protects against damage to cellular mitochondria, the deep heart of human cells, where energy is produced and cellular regeneration takes place. Fatty acids of avocado oil enhances the absorption of important nutrients wail penetrating the cell. The fats of this fruit are truly unique and include phytosterols - plant hormones such as beta-sitosterol, campesterol, and stigmasterol - that help keep inflammation under control.
Pfaffia Paniculata Root Extract (and) Ptychopetalum Olacoides Bark/Stem Extract (and) Lilium Candidum Flower Extract
Patented active conpoundBIOSKINUP CONTOUR 3R© of the laboratory CHEMYUNION (Brasil) Bioskinup™ Contour 3R is composed of concentrated extracts of Pfaffia, Maramuama and White Lily, a synergic association standardized in saponins and flavonoids. It helps to reduce dark circles and under eye bags and puffiness. It also improves skin firmness. Ideal applications include skin care products for face contour and cosmetic and dermocosmetic eye care products.
SC-CO2 Hamamelis Virginia Extract
It is rich in tannins, essential oil, flavonoids, vitamin F. It enhances the appearance of dry or damaged skin and help reduce flaking and restores the suppleness of skin. It is offten used as an anti-inflammatory inredient in cosmetics.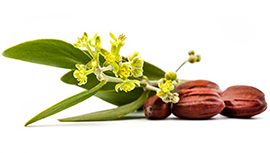 Simmondsia Chinensis Seed Oil
It is the liquid that comes from the seed of the Simmondsia chinensis (jojoba) plant, it's actually a liquid plant wax. The most notable benefits of jojoba oil include its ability to moisturize the hair, prevent hair loss, reduce inflammation, prevent acne, soothe sunburn, rejuvenate the skin, eliminate dandruff, fight free radical damage, boost the immune system, and speed up the healing process. It can attack the underlying fungal, viral or bacterial infection and neutralize it quickly. Also jojoba oil benefit is that it plays the role of sebum and moisturizes our skin and hair when our body stops doing it naturally Jojoba oil removes sticky buildup or excess oil, too; it keeps your oil levels balanced. So, jojoba oil works as a protectant and cleanser.
Sodium Hyaluronate (High-molecular)
High-molecular-weight-HA Sodium Hyaluronate is the salt form of Hyaluronic Acid . High-molecular-weight-HA (>500 kDa) is an excellent surface hydrator, skin protectant, that can hold up to 1,000 times its own weight in water. It can act as an osmotic pump helping water-soluble actives to penetrate deeper into the skin. Smoothes the skin, boosts the tissue regeneration without scarring, prevents oxygen free radical damage.
INCI:
Aqua, Persea Gratissima Oil, Cetearyl Olivаte (and) Sorbitan Olivate, Squalane, Glycerin, Hydrolyzed Beta-Glucan, Ricinus Communis (Castor) Oil, Lonicera Caprifolium (Honeysuckle) Flower Extract (and) Lonicera Japonica (Honeysuckle) Flower Extract, Betaine, Sodium Hyaluronate, Caprylyl/Capryl Glucoside, Pfaffia Paniculata Root Extract (and) Ptychopetalum Olacoides Bark/Stem Extract (and) Lilium Candidum Flower Extract, Simmondsia Chinensis Seed Oil, Thymus Vulgaris Extract, Lactic Acid, Zingiber Officinalis Extract, Hamamelis Virginia Extract, Hedera Helix Extract, Aesculus Hippocastanum Extract, Humulus Lupulus Extract, Arnica Montana Extract, Cyamopsis Tetragonoloba Gum (and) Xanthan Gum, Algin, Betula Pubescens Extract, Mentha Piperita Extract, Tocopherol (mixed), Beta-Sitosterol, Chamomile Extract, Salvia Officinalis Extract.
Active Ingredients
Hydrolyzed Beta-Glucan
Betaine
Sodium Hyaluronate
Hamamelis Virginia Extract
Pfaffia Paniculata Root Extract (and) Ptychopetalum Olacoides Bark/Stem Extract (and) Lilium Candidum Flower Extract
Hedera Helix Extract, Aesculus Hippocastanum Extract, Humulus Lupulus Extract
Tocopherol (mixed), Beta-Sitosterol
Application
Apply the cream on cleansed face with patting movements.
To prevent stretching and damage to the skin, apply the cream along the massage lines. For this:
Apply a small portion of the cream on the nose bridge, nose and chin.
Divide the cream from the nose bridge to the hairline and from the nose bridge to the temples.
Spread the cream from nose to ear lobe with patting movements.
Spread the cream from the top of the upper lip to the ear lobe and from the chin to the ear lobe.
Do not forget about the neck and decollete - the skin in these places also need your care.
For women over 40 it is necessarily to apply the cream in courses 1-2 times a year for the prevention of the spider veins.
As a base for make-up, apply the cream for 20-30 minutes before makeup.
Can be used for extra moisturizing over day and / or night cream.
In the cold season, put the cream at least in 30 minutes before going outside.
When you first receive your airless pump bottle, pump the top a few times and your product should start dispensing normally. Some bottles may take up to 10-30 pumps.  If you're not getting any product after pumps, we recommend priming the pump. There is a disk that pushes the product to the top which can become stuck, and you may need to bang the bottom of the bottle 3-4 times on a flat-hard surface to loosen the disk, then hold your bottle upside-down and gently tap the top of the bottle against a flat surface. This should get the product moving.