Open hours
Mon - Fri: 9.00 - 19.00
Sat - Sun: day off
Shipping
BelPost Int.
Courier (Minsk)
Pick up from store (Minsk)
Belarus Post Tracking
EMS
Product Description
for mature dry, normal and combination skin
Synergistic complex of oils and antioxidants
Normalizes skin moisture • Intensively nourishes • Boosts regeneration processes
---
Moisturizing night cream with optimal occlusive effect for very dry and combination skin. The combination of the strongest antioxidants - Thermus Thermophilus enzyme, tocopherol and magnolol complex - protects the skin barrier from oxidative stress of any nature and prevents premature aging. Myorelaxing stevia extract smoothes wrinkles and helps to relax for a good night's sleep. A specially developed oil-emulsion complex, combined with phytoceramides and hypoallergenic lanolin, restores the skin's hydro-lipid barrier while sustaining water balance.
Your Reviews
Екатерина
Skin type: Сухой
Age: 44
Main Ingredients
Betaine
Betaine is a naturally derived ingredient, an amino acid.  Also known as Trimethylglycine or glycinebetaine. It is obtained from the process of making sugar out of sugar beets. Being an osmolyte, its structure allows to attract water and help maintain cell water balance. Betaine reduces the ability of water molecules to solvate proteins, thus stabilizing the native protein structures.  It primarily functions as a humectant and anti-irritant in cosmetic products, is prone to hydrogen bonding. It is identified as anti-melanogenic agent. Accumulated evidence has shown that betaine has anti-inflammatory functions in numerous diseases.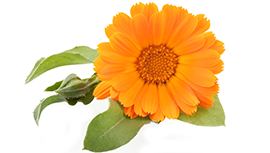 Calendula Officinalis Extract
It improves the skin regeneration und straightens the capillaries.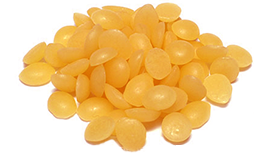 Candelilla Cerawax
Candelilla Cerawax, derived from candelilla plants, a small succulent that grows in bunche It is used as a thickening agent and emollient. It has anti-inflammatory and anti-bacterial properties.
Cetearyl Alcohol
Cetearyl Alcohol is a mixture of fatty alcohols derived from Coconut oils, consisting predominantly of cetyl and stearyl alcohols. It's used as a texture enhancer. Cetearyl Alcohol also contains emollient properties which leave skin soft and smooth. It works enhancing the delivery of nutrients into the deeper layers of the skin. Has disinfectant properties.
Cetearyl Olivаte (and) Sorbitan Olivate
It is obtained from the original olive oil by esterification of its fatty acid groups and combined with sorbitol and cetearyl alcohol. It is a non-ionic and mild emulsifier. It is a cutting-edge oil-in water emulsion stabilizing agent and liquid crystal promoter lamellar liquid that actually reorganizes emulsion structure on a microscopic level, improving product performance, texture and feel. Ist combination of fatty acids that are chemically similar to the composition of the hy drolipidic film of the skin.

It has the ability to generate liquid crystal structures, making it an ideal biomimetic ingredient in terms of composition and structure. The distinct lamellar liquid crystal structure is remarkably similar to the skin's own natural lipid structure, creating an excellent delivery system that provides superior hydrating effects due to the high water content of the liquid crystalline structure that forms when in contact with the skin.
Evening Primrose Oil
Evening primrose oil is the oil from the seed of the evening primrose plant. It is rich on essential fatty acid content. Evening primrose oil is highly concentrated in Gamma Linoleic Acid (GLA) is which an omega 6 fatty acid. This nutrient is crucial for moisturized, clear, bright and healthy skin. Evening primrose oil is best known for its hormone-balancing properties, it visibly lightens hyperpigmentation in addition to healing hormonal acne. When used in hair, Evening Primrose Carrier Oil is known to hydrate and nourish the scalp to fortify the strands and soothe itchiness, dryness, and inflammation, thus preventing or reducing hair loss.
Glycerin
Glycerin is used in skincare as an emollient, slip agent, and humectant that absorbs moisture from the air and draws it into the skin. Moisturizes and restores skin, is necessary for healthy skin, encourages skin cell growth and regeneration.
Guar Gum (Cyamopsis Tetragonoloba Gum)
Guar gum is a polysaccharide from the Indian cluster bean (Cyanopsis tetragonoloba), a polymer of galactose and mannose.  Guar gum acts as a thickener, emulsifier, stabilizer in cosmetic formulations. It can form a "free breathing" film on hair and skin, that prevents water loss. As a conditioner, it will make skin smooth and soft.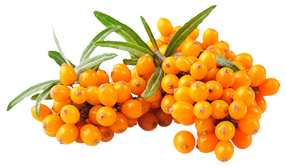 Hippophae Rhamnoides (Sea Buckthorn) Oil
Seabuckthorn Pulp Oil is obtained from the berries of the sea buckthorn plant (Hippophae rhamnoides L.), which belongs to the oleaster family (Elaeagnaceae). They can also be applied to acne, rosacea and psoriasis. Sea buckthorn oils work wonders on the skin. Sea buckthorn seed oil is high in Omega 3 and antioxidants. its unique unsaturated fatty acids, such as palmitooleic acid (omega-7) and gamma-linolenic acid (omega-6), give sea-buckthorn oil skin regeneration and repair properties. Since this oil is a rich in fatty acids, it's great for moisturizing the skin. Because of its antioxidant content, it can also be good for dark spots on the skin and wrinkles.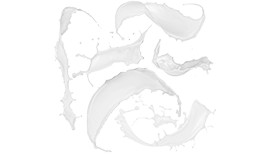 Lactic Acid
Rosehip oil is pressed from the fruit and seeds of the rose plant. Rosehip oil contains a wealth of essential fatty acids, including linoleic and linolenic acid. Fatty acids help to keep cell walls strong so that they don't lose water. Rosehip oil is loaded with skin-nourishing vitamins, phenols and antioxidants. It has been shown to have antiviral, antibacterial, and antifungal properties.This oil moisturizes, calms and repears the skin.
Lavandula Officinalis Extract
Lavandula Officinalis ExtractIn cosmetics it is used for its soothing, anti-septic, and anti-inflammatory properties. The herb has also been know to effectively treat acne, burns, bruises, and infections. 
Lonicera Caprifolium (Honeysuckle) Flower Extract or Lonicera Japonica (Honeysuckle) Flower Extract
This extract is known to optimize the metabolic processes in the skin, to strengthen the capillaries, to eliminate the itching and irritation. It has pronounced anti-inflammatory and deodorizing activities. Honeysuckle extract is a natural, plant-based preservative that is strongly anti-bacterial and anti-viral. It works to prevent fungal and bacterial growth in water based products, it is used as natural preservative in green cosmetics.
Magnolol, Honokiol
It is an active component isolated from Magnolia officinalis. Magnolia officinalis and Magnolia obovata bark extracts are widely employed as herbal preparations for their sedative, antioxidant, anti-inflammatory, antibiotic, and antispastic effects. Recent studies have proven the effectiveness of magnolia bark extract against so-called 'inflam aging' - these are chronic skin inflammations accelerating the skin aging process, they typically occur in reddened, rosacea-prone skin. Magnolol, Honokiol work as platelet aggregation inhibitors, has a strong anti-wrinkle effect by reducing the contraction of facial muscles that lead to expression lines.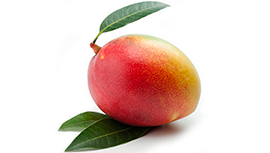 Mangifera Indica (Mango) Seed Butter
There are the fats expressed from the seeds (also called kernels) of Mangifera indica . Loaded with vitamins like A and E, essential fatty acids, and natural antioxidants, this butter can be extremely nourishing to both the hair and skin. Mango Butter is non-comedogenic. That means that it won't clog pores or aggravate acne-prone skin.It moisturizes,softens, restores skin, protects from UV-lights. Since mango butter is a natural source of vitamin A, it helps reduce the appearance of fine lines and wrinkles and increasing skin's overall youthful look.
Olea Europaea Fruit Oil
Olea Europaea (Olive) Fruit Oil is the oil extracted from the fruit (olives) of the Olive tree. Olive oil contains three major antioxidants: vitamin E, polyphenols, and phytosterols. Antioxidants, when topically applied, may help protect the skin from premature skin aging. Vitamin E partly accounts for the anti-aging benefits of olive oil because it helps restore skin smoothness and protects against ultraviolet light. It is known to maintain the softness, suppleness, and radiance of skin and hair. The oil shows to eliminate bacteria by deeply penetrating pores without clogging them and to have cleansing properties that purge dirt, sweat and excess sebum from hair and skin. It is able to repair and improve the appearance of damaged tissue such as scars, acne, and wrinkles.
Pistacia Vera Seed Oil
The fruits of the pistachio are high in protein, oil, and vitamin E. Vitamin E alpha- and gamma-tocopherol, vitamin C, proanthocyanidins, transresveratrol, isoflavones have been identified in this nut. This oil stimulates the synthesis of collagen, improves the barrier function of the skin. It has inhibitory effect on synthesis of melanin, owing to prevention of pigments pots and freckles.
Plukenetia Volubilis Seed Oil (Sacha Inchi Oil)
Sacha Inchi seeds are considered to be the richest plant-based source of essential fatty acids and vitamins. Sacha Inchi oil contains 93% unsaturated fatty acids. Sacha Inchi oil processed from the seed is reported to contain a high consentration of gamma-tocopherol and of delta-tocopherol, whish are more powerful than alfa-tocopherol (vit.E). That s why this oil acts blocking free radical damage caused by exposure to UV rays. Vitamin E also boosts collagen production, helping to maintain skin elasticity and prevent wrinkle und scars formation. It is gentle enough to use on all skin typee, specially on sensativ and damaged skin (eczema, psoriasis, dermatitis).
Polyglyceryl-10 Laurate,Ceramide NP
Ceramides are major lipid components in the stratum corneum of the human skin. The Complex of ceramides-3,-5 plant origins which is necessary for restoration and normal functioning of cell structures, synergistically improve the skin barrier function in humans. It is specially made for long term protection and repair of sensitive, damaged and dry skin.
Ricinus Communis (Castor) Oil
Ricinus Communis (Castor) seed oil is made from the seeds from the Ricinus Communis plant otherwise known as castor beans. The antimicrobial and anti-inflammatory properties of castor oil make it useful in reducing acne. Castor oil is also rich in other fatty acids. These can enhance smoothness and softness when applied to facial skin. It penetrates into the skin and boosts the production of collagen which softens and hydrates the skin. It rejuvenates the skin by making it softer and smoother. Castor oil is the best oil to enrich your scalp and to improve hair growth, t helps to get rid of dandruff.
Salvia Officinalis Extract
Due to its bactericidal and bacteriostatic properties it is commonly used in cosmetics for sensitive, baby skin and in medical cosmetics. It is reported to have antibiotic, antihypertensive, anti-inflammatory, antioxidant, astringent, antispasmodic, estrogenic and hypoglycemic properties. Therefore it act reducing inflammation and regulating sebum production. The extract has a relaxing and calming effect on the state of the nervous system and muscles, reducing stress accumulated during the day.
Sesamum Indicum Seed Oil
Sesame oil is an edible vegetable oil derived from sesame seeds. esame oil is rich in linoleic acid and oleic acid. The oil shows a high resistance to oxidation thanks to strong antioxidant Sesaminol. Because of its antibacterial and anti-inflammatory properties it is commonly used in beauty treatments for the skin. There is a predominance of gamma-tocopherol over the other isomers of Vitamin E. It conforms for care of the dry, sensitive, withering skin and for oily skin too.
Sodium Hyaluronate (low-molecular)
Low-molecular-weight-HA (< 500 kDa) can hydrate the skin somewhat deeper though it is still a big molecule and works mainly in the epidermis (outer layer of the skin). Hyaluronic Acid and Sodium Hyaluronate can replace some of the water lost in the dermis, and potentially fight wrinkles and other signs of aging. Stimulates own hyaluronic acid production. Improves skin immunity by stimulating the production of antimicrobial peptides.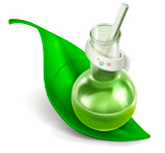 Squalene
Squalene are natural components of human sebum, a mixture of lipids produced by glands in the skin. It is used in cosmetics to reduce trans-epidermal water loss (TEWL) or prevent moisture loss, and to restore the skin's suppleness and flexibility. It reducees the oxidative damage to the skin due to exposure to UV light and prevents pigmentation.
Thermus Thermophillus Ferment
Thermus Thermophilus Ferment extract (TTF) is a specialized bacterium strain found in shallow marine hydrothermal systems and low-saline solfataric springs - the muddy waters near volcanic areas. This bacterium that thrives at around 75 °C. has been gathered from vents two kilometres down on the bottom of the Pacific's Gulf of California. Recent further investigations have proven the next properties of this ferment:
protection against Infrared- Ageing,

protection of DNA against oxidative damage of UVA irradiation (in vitro),

decrease of lipoperoxidation of the stratum corneum being a potent antioxidant that can deactivate hydrogen peroxide and superoxide anion radical,

increase of skin ceramide amounts,

protection against collagen contraction ,

stinulation of corneocytes maturation.
Tocopherol (mixed), Beta-Sitosterol
Tocopherols are another group of chemicals that make up the vitamin E family. Tocotrienols target specific free radicals and sources of inflammation, however. Applied to skin, it is considered a good moisturizing and skin-soothing ingredient. Beta-Sitosterol ia a fatty acid-type ingredient derived from plants. Beta-sitosterol occurs naturally in many fruits, vegetables, nuts, and seeds. It is similar to cholesterol, which occurs naturally in skin. It Improves an epitelization, ptotecks from UV-rays.
Water
Xanthan Gum
Xanthan gum is a polysaccharide with many industrial uses, which is made by mixing fermented sugars. It is used as a stabiliser, emulsifier, thickener, suspending agent and bodying agent. Xanthan gum exhibits high viscosity at low concentrations, little change in viscosity at varying temperatures, and excellent stability over a wide pH range.It improves cream texture und moisturizes the skin.
Ланолин
Английский высококачественный безводный ланолин с сертификатами Vegan и Ecosert.
Шерстяной воск, получаемый путём вываривания шерсти овец. Густое желтое или желтовато-бурое масло с характерным запахом. Особо ценится в восстанавливающей косметике и в косметике для сухой кожи за свой уникальный состав с большим содержанием стеринов (в частности, холестерина, изохолестирина и т.д.), высших жирных кислот (миристиновой, пальмитиновой, церотиновой и др.), а так же свободных высокомолекулярных спиртов. 
Обладает сильным смягчающим, увлажняющим и ранозаживляющим действием.
Лимонная кислота
АНА-кислота. В косметике используется как действующий отбеливающий и отшелушивающий компонент и как дополнительный компонент, регулирующий кислотность, соконсервант, усилитель пенообразования и т.д.
Магнолол, хонокиол
Биологически активные соединения, выделенные из коры магнолии (Magnolia officinalis). Магнолол и хонокиол обладают антибактериальными и противогрибковыми свойствами. Используются при лечении купероза - могут ингибировать агрегацию тромбоцитов. Оказывают сильное и продолжительное расслабляющее действие на мышцы. Успокаивающее и противовоспалительное действие на кожу. Сильные антиоксиданты.
Экстракт стевии
это 100% натуральный и мощный активный ингредиент, который противодействует одной из главных причин появления признаков времени: непроизвольных микромышечных сокращений лица. Минимизирует напряжение гладких мышц и последующее образование борозд, морщин или линий. Натуральное «де»-стрессирующее средство для кожи, которое уменьшает непроизвольные микростатуры мышц и восстанавливает здоровье кожи, возвращая ей более молодой отдохнувший внешний вид.
INCI:
Aqua, Sesamum Indicum Seed Oil**, Cetearyl Olivаte** (and) Sorbitan Olivate**, Ricinus Communis (Castor) Oil**, Lаnolin**, Glycerin**, Betaine**, Сetearyl Alcohol**, Mangifera Indica (Mango) Seed Butter**, Pistacia Vera Seed Oil*, Oenothera Biennis (Evening Primrose) Oil*, Candelilla Cera**, Thermus Thermophillus Ferment*, Plukenetia Volubilis Seed Oil*, Olea Europaea (Olive) Fruit Oil*, Ceramide NP*, Polyglyceryl-10 Laurate*, Citric Acid*, Inulin** (and) Alpha-Glucan Oligosaccharide**, Lonicera Caprifolium (Honeysuckle) Flower Extract* (and) Lonicera Japonica (Honeysuckle) Flower Extract*, Hippophae Rhamnoides (Sea Buckthorn Рulp) Oil*, Tocopherol (mixed)**, Beta-Sitosterol**, Squalene**, Magnolol**, Honokiol**, Sodium Levulinate**, Cyamopsis Tetragonoloba Gum** (and) Xanthan Gum**, Salvia Officinalis Extract*, Sodium Hyaluronate (low-molecular)**, Lactic Acid**, Stevioside**, Calendula Officinalis Extract*, Lavandula Officinalis Extract* *- natural oils and extracts, ** - ingredients witn ECO and BIO certificates
Active Ingredients
Sesamum Indicum Seed Oil
Lаnolin
Betaine
Oenothera Biennis (Evening Primrose) Oil
Thermus Thermophillus Ferment
Plukenetia Volubilis Seed Oil
Ceramide NP*, Polyglyceryl-10 Laurate
Inulin, Alpha-Glucan Oligosaccharide
Hippophae Rhamnoides (Sea Buckthorn Рulp) Oil
Tocopherol (mixed)
Squalene
Magnolol, Honokiol
Sodium Hyaluronate (low-molecular)
Application
Do not use as a day cream!