Open hours
Mon - Fri: 9.00 - 19.00
Sat - Sun: day off
Shipping
BelPost Int.
Courier (Minsk)
Pick up from store (Minsk)
Belarus Post Tracking
EMS
Product Description
baby skin 0+
stick-tights and greater celandine extracts

Effectively moisturizes • Maintains the balance of the skin microbiota
---
For the gentlest moms.
Nutritional cream to moisturize sensitive baby skin.
The active basis of the cream is composed of the extracts of stick-tights, marigolds, maclayas and black cumin oil with known healing and soothing properties, favourable for dry and irritated skin. Complex of extracts of medicinal plants (greater celandine, marigold, maclaya, magnolia) and prebiotics (oligosaccharide inulin and alpha-glucan) relieve inflammation and normalizes the skin microflora. Calamin accelerates the healing of the skin damage and reduces itching.
Main Ingredients
Butyrospermum Parkii Butter (Shea)
The wide range of ingredients (oleic, linoleic, and stearic acids, antioxidants, vitamins) in shea butter regulates the moisture balance of the skin naturally and moisturises the skin, soothing and smoothing. Shea butter helps repair the skin and is an effective remedy for dark spots, wrinkles, stretch marks and sunburn. Its healing properties help treat minor burns, small wounds and insect bites. The lipid barrier of the cornea is strengthened, making shea butter ideal for the care of dry, atopic and damaged skin.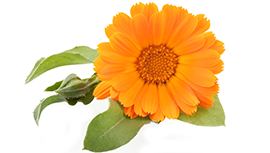 Calendula Officinalis Extract
It improves the skin regeneration und straightens the capillaries.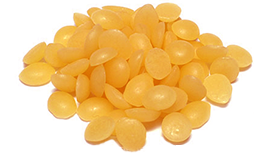 Candelilla Cerawax
Candelilla Cerawax, derived from candelilla plants, a small succulent that grows in bunche It is used as a thickening agent and emollient. It has anti-inflammatory and anti-bacterial properties.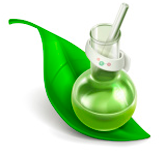 Caprylic/Capric Triglyceride
Fractionated Coconut Oil. Is a special esterification of coconut oil using caprylic and capric fatty acids. It is colorless, odorless, tasteless and stable. efficient solvents. Vitamins or other fat-soluble chemicals are easily dissolved in mixtures of caprylic/capric triglycerides and can be used to enhance the beneficial properties of face creams. Caprylic/capric trigylceride does not readily oxidize. It is particularly useful as a stabilizer of emulsions. This property is particularly useful in facial creams and other cosmetic products, helping to give them a longer shelf life. Caprylic/capric triglyceride is an excellent emollient as well, improving both the aesthetics of the product, as well as working to soften and smooth the skin.
Cetearyl Alcohol
Cetearyl Alcohol is a mixture of fatty alcohols derived from Coconut oils, consisting predominantly of cetyl and stearyl alcohols. It's used as a texture enhancer. Cetearyl Alcohol also contains emollient properties which leave skin soft and smooth. It works enhancing the delivery of nutrients into the deeper layers of the skin. Has disinfectant properties.
Cetearyl Olivаte (and) Sorbitan Olivate
It is obtained from the original olive oil by esterification of its fatty acid groups and combined with sorbitol and cetearyl alcohol. It is a non-ionic and mild emulsifier. It is a cutting-edge oil-in water emulsion stabilizing agent and liquid crystal promoter lamellar liquid that actually reorganizes emulsion structure on a microscopic level, improving product performance, texture and feel. Ist combination of fatty acids that are chemically similar to the composition of the hy drolipidic film of the skin.

It has the ability to generate liquid crystal structures, making it an ideal biomimetic ingredient in terms of composition and structure. The distinct lamellar liquid crystal structure is remarkably similar to the skin's own natural lipid structure, creating an excellent delivery system that provides superior hydrating effects due to the high water content of the liquid crystalline structure that forms when in contact with the skin.
Gluconolactone
Gluconolactone is white crystalline powder derived from gluconic acid received  from vegetable raw materials. Gluconic acid, found abundantly in plant, honey and wine, is a mild organic acid derived from glucose by a simple oxidation reaction. It's a polyhydroxy acid (PHA), that is often referred to as next generation AHA. It gently lifts off dead skin cells form the skin surface making skin smooth and even. In the long term it provides anti-aging benefits. It has comparable skin benefits to AHAs but without the irritation as a side effect.
A comparative study of gluconolactone versus benzoyl peroxide in the treatment of acne. The results of this study showed that both gluconolactone and benzoyl peroxide had a significant effect in improving patients' acne by reducing the number of lesions (inflamed and non-inflamed). Furthermore, fewer side-effects were experienced by patients treated with gluconolactone when compared with benzoyl peroxide.
Glycerin
Glycerin is used in skincare as an emollient, slip agent, and humectant that absorbs moisture from the air and draws it into the skin. Moisturizes and restores skin, is necessary for healthy skin, encourages skin cell growth and regeneration.
Guar Gum (Cyamopsis Tetragonoloba Gum)
Guar gum is a polysaccharide from the Indian cluster bean (Cyanopsis tetragonoloba), a polymer of galactose and mannose.  Guar gum acts as a thickener, emulsifier, stabilizer in cosmetic formulations. It can form a "free breathing" film on hair and skin, that prevents water loss. As a conditioner, it will make skin smooth and soft.
Laminaria Ochroleuca Extract in Caprylic/Capric Triglyceride
Patented compound ANTILEIKIN-6© of laboratory BIOTEH MARINE (France).
Laminaria Ochroleuca, also known as "golden seaweed," is appreciated for remarcable properties to combat the effects of UVA and UVB rays. Rich in nutrients, this extract helps smooth the skin, has a significant effects on the hydration, firmness of the skin, it also helps moisturize skin while boosting the skin's barrier layer. Because seaweed cells are surprisingly similar to skin cells, it protects and maintains the skin's natural balance, defending against irritation, stimulating the synthesis of collagen and glycosaminoglycans.
Lavandula Officinalis Extract
Lavandula Officinalis ExtractIn cosmetics it is used for its soothing, anti-septic, and anti-inflammatory properties. The herb has also been know to effectively treat acne, burns, bruises, and infections. 
Lonicera Caprifolium (Honeysuckle) Flower Extract or Lonicera Japonica (Honeysuckle) Flower Extract
This extract is known to optimize the metabolic processes in the skin, to strengthen the capillaries, to eliminate the itching and irritation. It has pronounced anti-inflammatory and deodorizing activities. Honeysuckle extract is a natural, plant-based preservative that is strongly anti-bacterial and anti-viral. It works to prevent fungal and bacterial growth in water based products, it is used as natural preservative in green cosmetics.
Macadamia Integrifolia Seed Oil
Macadamia Nut Oil is cold pressed form the nut of Macadamia integrifolia trees. Macadamia Nut Oil, Macadamia integrifolia, has one of the highest sources of the essential fatty acid, palmitoleic acid, found in animal oils he absolute best, plant alternative, to animal based oils, this is the oil of choice to replace the activity of Mink Oil, and even Shark Liver Oil. Macadamia Nut Oil is excellent in hair care. It eliminates flaking and moisturizes fragile, damaged, dry skin.
Macleaya Microcarpa Extract
It is traditional antiviral, anti-inflammatory, and insecticidal herb medicine widespread in China, North America, and Europe. It relieves irritation, and is active in the treatment of acne. Macleaya provide a source of bioactive compounds, primarily alkaloids as sanguinarine that has properties of preservative.
Magnolol, Honokiol
It is an active component isolated from Magnolia officinalis. Magnolia officinalis and Magnolia obovata bark extracts are widely employed as herbal preparations for their sedative, antioxidant, anti-inflammatory, antibiotic, and antispastic effects. Recent studies have proven the effectiveness of magnolia bark extract against so-called 'inflam aging' - these are chronic skin inflammations accelerating the skin aging process, they typically occur in reddened, rosacea-prone skin. Magnolol, Honokiol work as platelet aggregation inhibitors, has a strong anti-wrinkle effect by reducing the contraction of facial muscles that lead to expression lines.
Nigella Sativa Seed Oil (Black Seed Oil)
Black seed oil is extracted from the seeds of Nigella sativa, also known as black cumin seed oil. Black seed oil is said to boost the immune system, reduce inflammation, and fight infections. The oil is used topically for skin and hair concerns, such as acne, dry hair, psoriasis, hair growth, and dry skin.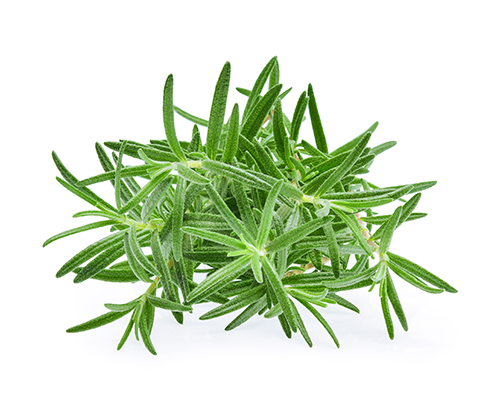 Rosmarinus Officinalis Leaf Extract
It has pronounced health benefits. Rosemary is known to reduce inflammation, is used to treat rheumatoid arthritis and muscle pain, to stimulate hair growth. It increases circulation and blood flow. As a potent antioxidant it prolongs the shelf life of cosmetic products.
Sesamum Indicum Seed Oil
Sesame oil is an edible vegetable oil derived from sesame seeds. esame oil is rich in linoleic acid and oleic acid. The oil shows a high resistance to oxidation thanks to strong antioxidant Sesaminol. Because of its antibacterial and anti-inflammatory properties it is commonly used in beauty treatments for the skin. There is a predominance of gamma-tocopherol over the other isomers of Vitamin E. It conforms for care of the dry, sensitive, withering skin and for oily skin too.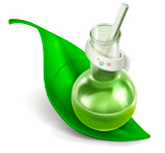 Squalene
Squalene are natural components of human sebum, a mixture of lipids produced by glands in the skin. It is used in cosmetics to reduce trans-epidermal water loss (TEWL) or prevent moisture loss, and to restore the skin's suppleness and flexibility. It reducees the oxidative damage to the skin due to exposure to UV light and prevents pigmentation.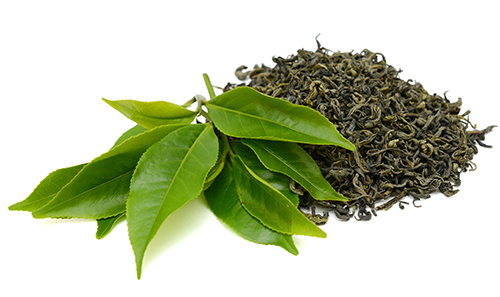 Thea Sinensis Extract
It shows good antioxidant and anti-inflammatory properties, protecting the cells from free radicals, preventing the breakdown of collagen and reducing the skin's UV damage. It's been shown to be an extremely effective treatment for reducing the redness and irritation associated with Rosacea.
Tocopherol (mixed), Beta-Sitosterol
Tocopherols are another group of chemicals that make up the vitamin E family. Tocotrienols target specific free radicals and sources of inflammation, however. Applied to skin, it is considered a good moisturizing and skin-soothing ingredient. Beta-Sitosterol ia a fatty acid-type ingredient derived from plants. Beta-sitosterol occurs naturally in many fruits, vegetables, nuts, and seeds. It is similar to cholesterol, which occurs naturally in skin. It Improves an epitelization, ptotecks from UV-rays.
Xanthan Gum
Xanthan gum is a polysaccharide with many industrial uses, which is made by mixing fermented sugars. It is used as a stabiliser, emulsifier, thickener, suspending agent and bodying agent. Xanthan gum exhibits high viscosity at low concentrations, little change in viscosity at varying temperatures, and excellent stability over a wide pH range.It improves cream texture und moisturizes the skin.
Бензиловый спирт
Ароматический спирт естественного происхождения. Содержится в клюкве, абрикосах, чаях. В косметике используется как консервант или как ароматизатор для придания цветочного аромата.

Инулин, альфа-глюкан олигосахарид
Пребиотик, способствует нормализации, кожной микрофлоры. Является питательной средой, необходимой для роста дружественных микроорганизмов, которым не могут воспользоваться опасные и враждебные виды.
Каламин
Минеральная пудра розового цвета с высоким содержанием цинка, получаемая из минерала гемиморфита. Средство с широким успокаивающим действием - противозудное, подсушивающее, охлаждающее. Усиливает регенерацию эпидермиса, снимает отёчность и воспаление. Обладает выраженным антисептическим действием.
Магнолол, хонокиол
Биологически активные соединения, выделенные из коры магнолии (Magnolia officinalis). Магнолол и хонокиол обладают антибактериальными и противогрибковыми свойствами. Используются при лечении купероза - могут ингибировать агрегацию тромбоцитов. Оказывают сильное и продолжительное расслабляющее действие на мышцы. Успокаивающее и противовоспалительное действие на кожу. Сильные антиоксиданты.
Цитраль
Компонент эфирных масел. Требует обязательного указания в INCI, если присутствует в эфирных маслах, входящих в соств косметики. В качестве отдельного ингредиента используется как ароматизатор или отдушка с запахом лимона.
Цитрат меди
Соль меди и лимонной кислоты. Натуральный консервант и антисептик с широким спектром действия по отношению к бактериям, вирусам, грибкам. Не вызывает аллергических реакций и не связывается с клетками человеческого тела. Воздействует только на специфические мембраны микроорганизмов, препятсвтуя их дыханию, питанию и размножению. Распадается в окружающей среде.
Цитрат серебра
Соль серебра и лимонной кислоты. Натуральный консервант и антисептик с широким спектром действия по отношению к бактериям, вирусам, грибкам. Не вызывает аллергических реакций и не связывается с клетками человеческого тела. Воздействует только на специфические мембраны микроорганизмов, препятсвтуя их дыханию, питанию и размножению. Распадается в окружающей среде.
Экстракт череды
Благодаря своим многообразным биологически активным веществам обладает успокаивающим, обезболивающим, дезинфицирующим, противовоспалительным, ранозаживляющим, гипотензивным, общеукрепляющим действиями. Купание в ванночках с отваром череды является традиционным вариантом ухода за младенческой и детской кожей.
Экстракт чистотела
Средство традиционной медицины для лечения всевозможных кожных заболеваний. Обладает противогрибковым, противовирусным и антимикробным действием. Сильные регененрирующие свойства позволяют использовать в разных средствадх для восстановления поврежденной кожи. Обладает себорегулирующим свойствами и сужает поры.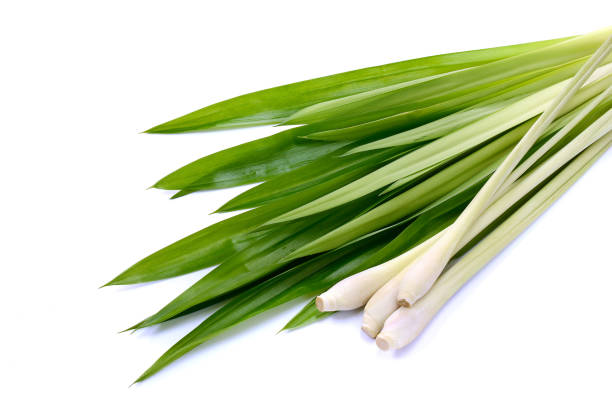 Эфирное масло лемонгасса
Эфирное масло для ухода за жирной, комбинированной и проблемной кожей - регулирует салоотделение, сужает поры, уменьшает воспаление. Обладает антисептическими и дезодорирующими свойствами.
INCI:
Aqua, Butyrospermum Parkii, Macadamia Integrifolia Seed Oil, Cetearyl Olivаte (and) Sorbitan Olivate, Sesamun Indicum Seed Oil, Glycerin, Сetearyl Alcohol, Inulin, Alpha-Glucan Oligosaccharide, Caprylic CapricTriglyceride, Laminaria Ochroleuca Extract, Candelilla Cera, Calamine, Nigella Sativa Seed Oil, Benzyl Alcohol, Cymbopogon Flexuosus Herb Oil, Tocopherol, Lonicera Caprifolium (Honeysuckle) Flower Extract (and) Lonicera Japonica (Honeysuckle) Flower Extract, SC-CO2 Thea Sinensis Extract, SC-CO2 Calendula Officinalis Extract, Silver Citrate, Copper Citrate, SC-CO2 Macleaya Microcarpa Extract, Magnolol, Honokiol, Sodium Levulinate, Cyamopsis Tetragonoloba Gum (and) Xantan Gum, Tocopherol (mixed), Beta-Sitosterol, Squalene, SC-CO2 Chelidonium Majus Extract, Gluconolactone, Bidens Tripartita CO2 Extract, Lavandula Officinalis CO2 Extract, Rosmarinus Officinalis CO2 Extract.
Active Ingredients
Laminaria Ochroleuca Extract
Calamine
Nigella Sativa Seed Oil
Calendula Officinalis Extract
Chelidonium Majus Extract
Bidens Tripartita Extract