Open hours
Mon - Fri: 9.00 - 19.00
Sat - Sun: day off
Shipping
BelPost Int.
Courier (Minsk)
Pick up from store (Minsk)
Belarus Post Tracking
EMS
Product Description
Normal & Oily Hair
Laurel Oil & Black Coffee Extract
Adds shine • Intensifies hair growth • Creates volume
---
Double-purpose conditioning balm.
If applied for 1-2 minutes the conditioner smoothens your hair, makes it ready for styling, enhances shine and removes electricity. Application for 15-20 minutes enhances the balm's nourishing and repairing effect: it rebalances sebum production, moisturizes and softens the scalp, reduces hair loss and stimulates hair growth.
Your Reviews
Констанция
Skin type: чувствительная,комбинированная
Age: 32
Элоизв
Skin type: склонная к жирности
Age: 27
Main Ingredients
Behentrimonium Methosulfatе
Behentrimonium Methosulfatе  is a natural, emulsifying wax. This emulsifier is perfect for hair conditioner. It sinks in well leaving hair and the scalp moisturized, softens and smooths your strands after cleansing, makes your hair shinier without making hair greasy.  It makes the hair much easier to comb through, prevents static electricity.
Betaine
Betaine is a naturally derived ingredient, an amino acid.  Also known as Trimethylglycine or glycinebetaine. It is obtained from the process of making sugar out of sugar beets. Being an osmolyte, its structure allows to attract water and help maintain cell water balance. Betaine reduces the ability of water molecules to solvate proteins, thus stabilizing the native protein structures.  It primarily functions as a humectant and anti-irritant in cosmetic products, is prone to hydrogen bonding. It is identified as anti-melanogenic agent. Accumulated evidence has shown that betaine has anti-inflammatory functions in numerous diseases.
Cucumis Sativa Extract (Cucumber)
Cucumber contains many potent antioxidants and anti-inflammatory nutrients. It is used as aa active agent to treat the acne-prone skin. Cucumber is known to moisturize, to repair dry and damaged skin, to calm skin irritations. Due to its rich composition of polysaccharides, increases the skin's firmness and elasticity, it smoothes and brightens the complexion. It is a strong whitening agent lightening freckles, getting rid of acne spots and pigmentation.
Juglans Regia Extract
It is a natural preservative. Known for his antimicrobial, anti-inflammatory, fungicidal effect.
Juniperus Communis Fruit Extract
It is used as antiseptic and healing agent with many benefits for skin and hair. It balances oily skin, increases its protective functions, supports the regenerative processes, cleans and unclogs the pores, treats dandruff and hair loss, strengthens the scalp. It is hypoallergenic and great for sensitive skin. It has a fresh, woody aroma.
Laurus Nobilis Seed Oil
Laurel oil is extracted from the fruits and leaves of the laurel plant. The bay laurel oil benefits are abundant . Laurel essential oil has antimicrobial or bacteria-fighting properties. It exerts a strong antibacterial activity against Gram-negative & Gram-positive foodborne pathogens like Salmonella, Staphylococcus aureus, Escherichia coli, Listeria monocytogenes. It ontains irreplaceable fatty acids , as a resalt it is capable to restore a lipidic barrier of skin and to heal any irritations. This oil is effective for eczema and psoriasis treatment. It improves micro blood circulation, stimulates tissue repair. It is commonly used for treatment for hair loss, excess hair fall, excessive itching, dandruff, baldness, weil intensifying hair growth.
Lonicera Caprifolium (Honeysuckle) Flower Extract or Lonicera Japonica (Honeysuckle) Flower Extract
This extract is known to optimize the metabolic processes in the skin, to strengthen the capillaries, to eliminate the itching and irritation. It has pronounced anti-inflammatory and deodorizing activities. Honeysuckle extract is a natural, plant-based preservative that is strongly anti-bacterial and anti-viral. It works to prevent fungal and bacterial growth in water based products, it is used as natural preservative in green cosmetics.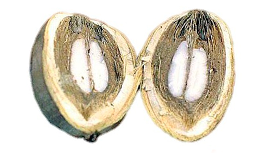 Orbignya Oleifera Seed Oil
Babassu oil is obtained from babassu plant, brazilian palm tree. It is creamy white oil which has similar properties to coconut oil. Babassu oil is one of the best emollients for all skin types. It soothes, moisturizes dry skin. Since it contains Vitamin E, it has antioxidant properties. It also has anti-inflammatory properties. For instance it is used for dry skin as well as for oily scalps and light inflammations or acne due to its antimicrobial and cooling effects.
Punica Granatum Extract
Punica Granatum ExtractIt has anti-inflammatory, stimulating, general strengthening, wound healing effects. In cosmetic products it is used for promoting skin regeneration, stimulating self repair mechanisms.
Ricinus Communis (Castor) Oil
Ricinus Communis (Castor) seed oil is made from the seeds from the Ricinus Communis plant otherwise known as castor beans. The antimicrobial and anti-inflammatory properties of castor oil make it useful in reducing acne. Castor oil is also rich in other fatty acids. These can enhance smoothness and softness when applied to facial skin. It penetrates into the skin and boosts the production of collagen which softens and hydrates the skin. It rejuvenates the skin by making it softer and smoother. Castor oil is the best oil to enrich your scalp and to improve hair growth, t helps to get rid of dandruff.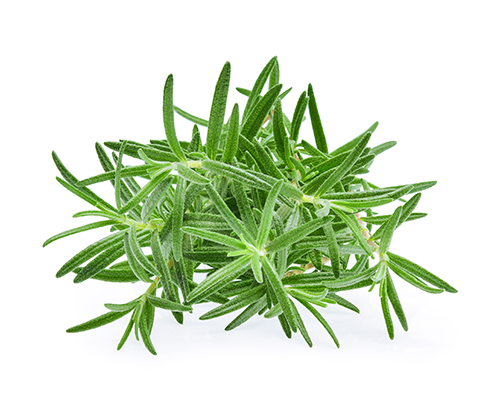 Rosmarinus Officinalis Leaf Extract
It has pronounced health benefits. Rosemary is known to reduce inflammation, is used to treat rheumatoid arthritis and muscle pain, to stimulate hair growth. It increases circulation and blood flow. As a potent antioxidant it prolongs the shelf life of cosmetic products.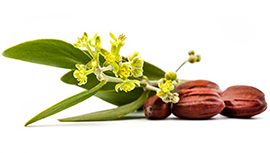 Simmondsia Chinensis Seed Oil
It is the liquid that comes from the seed of the Simmondsia chinensis (jojoba) plant, it's actually a liquid plant wax. The most notable benefits of jojoba oil include its ability to moisturize the hair, prevent hair loss, reduce inflammation, prevent acne, soothe sunburn, rejuvenate the skin, eliminate dandruff, fight free radical damage, boost the immune system, and speed up the healing process. It can attack the underlying fungal, viral or bacterial infection and neutralize it quickly. Also jojoba oil benefit is that it plays the role of sebum and moisturizes our skin and hair when our body stops doing it naturally Jojoba oil removes sticky buildup or excess oil, too; it keeps your oil levels balanced. So, jojoba oil works as a protectant and cleanser.
Syzygium Aromaticum Extract
Clove extract has a stronger antibacterial capacity due to a hight phenolic content. It has a restorative, whitening and regenerating properties. It help maintain the skin's lipid balance and increase moisture level.
Taraxacum Officinale Extract
Due to his strong antibacterial and anti-inflammatory properties, Taraxacum Officinale Extract has potential against all bacterial pathogenic strains. As an exfoliating agent It evens the skin out and improves its radiance and elasticity. This extract moisturizes and nourishes the skin with all the necessary minerals and trace elements. The high content of the prebiotic inulin within a plant improves the balance of bacterial microflora.
Vitis Vinifera Seed Oil
Vitis Vinifera (Grape) seed oil is the oil extracted from the seeds of Vitis Vinifera or grape plant. This oil has been shown to have hight antioxidant properties. to exhibit anti-inflammatory activity, to diaplay a direct antimicrobial activity against pathogens. It regulates the production of sebum, promotes narrowing of face pores.
INCI:
Aqua, Behentrimonium Methosulfate, Vitis Vinifera Seed Oil, Сetearyl Alcohol, Glycerin, Betaine, Orbignya Oleifera Seed Oil, Simmondsia Chinensis Seed Oil, Laurus Nobilis Seed Oil, Ricinus Communis (Castor) Oil, Lonicera Caprifolium (Honeysuckle) Flower Extract (and) Lonicera Japonica (Honeysuckle) Flower Extract, Juniperus Extract, Syzygium Aromaticum Extract, Lactic Acid, Coffea Arabica Black Extract, Rosmarinus Officinalis Extract, Punica Granatum Extract, Cucumis Sativa Extract, Taraxacum Officinale Extract, Juglans Regia Extract, Betula Pubescens Extract, Tocopherol (mixed), Beta-Sitosterol, Squalene.
Active Ingredients
Vitis Vinifera Seed Oil
Orbignya Oleifera Seed Oil
Laurus Nobilis Seed Oil
Ricinus Communis (Castor) Oil
Betaine
Coffea Arabica Black Extract
Application
Conditioning balm №49 is designed for:
recover damaged hair
facilitate styling and combing hair
improve the elasticity and shine of hair
CONDITIONER: Spread a small amount on clean, wet hair over the entire length. Leave for 2-3 minutes. Wash off with plenty of water.
BALM MASK: Spread a small amount of the product on clean, wet hair over the entire length. Leave for 20-30 minutes. Wash off with plenty of water.
For the effect improvement use in a complex with spray-conditioner No. 41 or No. 42.
In case of contact with eyes, rinse thoroughly with water.
When you first receive your airless pump bottle, pump the top a few times and your product should start dispensing normally. Some bottles may take up to 10-30 pumps.  If you're not getting any product after pumps, we recommend priming the pump. There is a disk that pushes the product to the top which can become stuck, and you may need to bang the bottom of the bottle 3-4 times on a flat-hard surface to loosen the disk, then hold your bottle upside-down and gently tap the top of the bottle against a flat surface. This should get the product moving.