Open hours
Mon - Fri: 9.00 - 19.00
Sat - Sun: day off
Shipping
BelPost Int.
Courier (Minsk)
Pick up from store (Minsk)
Belarus Post Tracking
EMS
Product Description
All Skin Types
Avocado Oil & Thyme Extract

Prolonged moisturizing effect • Improves skin elasticity • Perfect for summer
---
An universal moisturizing fluid with a special light formula. Its unique combination of active natural components reduces inflammation, actively moisturizes and regenerates skin of any type or age.
The cream formula based upon alginate (algae extract) and plant extracts enriches skin with microelements, vitamins, antioxidantsand strengthens the capillaries.
Your Reviews
Елена
Skin type: смешанный
Age: 37
Дудко Светлана Владимировна
Skin type: Нормальная
Age: 26
Main Ingredients
Betaine
Betaine is a naturally derived ingredient, an amino acid.  Also known as Trimethylglycine or glycinebetaine. It is obtained from the process of making sugar out of sugar beets. Being an osmolyte, its structure allows to attract water and help maintain cell water balance. Betaine reduces the ability of water molecules to solvate proteins, thus stabilizing the native protein structures.  It primarily functions as a humectant and anti-irritant in cosmetic products, is prone to hydrogen bonding. It is identified as anti-melanogenic agent. Accumulated evidence has shown that betaine has anti-inflammatory functions in numerous diseases.
Betula Pubescens Extract
The plant extract of Betula provides anti-irritant, anti-oxidant and properties for hair and skin care preparations. It is used a light astringent, softening, calming, disinfecting agent. It helps balance the pH level, can improve the complexion increasing facial blood circulation. An ideal choice for sensitive and acne-prone skin.
Glyccyrrhyza Glabra Extract
Glyccyrrhyza Glabra (Licorice root) Extract is used as a anti-inflammatory, antiseptic, analgesic, wound healing, anti-allergic agent. It normalizes electrolyte balance in the deeper layers of the skin, soothes and softens irritated skin, has a rejuvenating effect due to the high content of phytohormones.Licorice root extract is a common ingredient used in many skincare products to lighten the discoloration or pigmentation.
Guar Gum (Cyamopsis Tetragonoloba Gum)
Guar gum is a polysaccharide from the Indian cluster bean (Cyanopsis tetragonoloba), a polymer of galactose and mannose.  Guar gum acts as a thickener, emulsifier, stabilizer in cosmetic formulations. It can form a "free breathing" film on hair and skin, that prevents water loss. As a conditioner, it will make skin smooth and soft.
Mentha Arvensis Extract
It is used for calming skin irritation and itchiness, as well as reducing redness. It has moisturizing and tonifying effect on the skin.
Rosa Canina Extract
Rosa Canina Seed Extract is an extract of the seeds of the wild rose. Rosehip fruits (Rosa canina L.) are rich of antioxidant compounds, especially Vitamin C. Furthermore wild rose hips also contain vitamins A, D and E, as well as essential fatty acids, and high levels of antioxidant flavonoids, well known for their anti-inflammatory, antiviral, and antiallergenic properties. Wild rose hips demonstrate significant repairing action on fine lines and pigmentation disorders, increasing the cell metabolism, stimulating production of collagen in fibroblast cells.
Salvia Officinalis Extract
Due to its bactericidal and bacteriostatic properties it is commonly used in cosmetics for sensitive, baby skin and in medical cosmetics. It is reported to have antibiotic, antihypertensive, anti-inflammatory, antioxidant, astringent, antispasmodic, estrogenic and hypoglycemic properties. Therefore it act reducing inflammation and regulating sebum production. The extract has a relaxing and calming effect on the state of the nervous system and muscles, reducing stress accumulated during the day.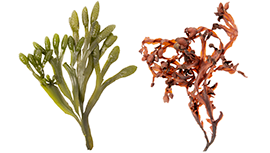 Sodium Alginate
Sodium Alginate is a polysaccharide derived from brown seaweed.  In cosmetics, these seaweed products act as thickening, water-binding agents, and antioxidants. Algae  contains vitamins A, B, B1, C and E and microelements: iron, proteins, sodium, phosphorus, magnesium, copper, calcium, iodine, etc. They are beneficial for skin, as emollients, soothing or antibacterial agents. Alginate is a natural humectant, evening skin tone and narrowing pores.
Sodium Hyaluronate (High-molecular)
High-molecular-weight-HA Sodium Hyaluronate is the salt form of Hyaluronic Acid . High-molecular-weight-HA (>500 kDa) is an excellent surface hydrator, skin protectant, that can hold up to 1,000 times its own weight in water. It can act as an osmotic pump helping water-soluble actives to penetrate deeper into the skin. Smoothes the skin, boosts the tissue regeneration without scarring, prevents oxygen free radical damage.
Thymus Vulgaris Extract
Thyme leaf extract has antimicrobial properties, ideal for the care of acne. It is also used as a natural preservative.It is known to have pronounced tonifying, antibacterial and anti-inflammatory effects. It is used to clean the skin, to get rid inflammatory processes, to increase the complexion.сы.
INCI:
Aqua, Persea Gratissima Oil, Cetearyl Olivаte (and) Sorbitan Olivate, Squalane, Glycerin, Betaine, Ricinus Communis (Castor) Oil, Lonicera Caprifolium (Honeysuckle) Flower Extract (and) Lonicera Japonica (Honeysuckle) Flower Extract, Sodium Hyaluronate, Thymus Vulgaris Extract, Lactic Acid, Zingiber Оfficinalis Extract, Algin, Betula Pubescens Extract, Glyccyrrhyza Glabra Extract, Rosa Canina Extract, Tussilago Farfara Extract, Citrus Limonium Extract, Cyamopsis Tetragonoloba Gum (and) Xanthan Gum, Mentha Piperita Extract, Tocopherol (mixed), Beta-Sitosterol, Chamomile Extract, Salvia Officinalis Extract
Active Ingredients
Persea Gratissima Oil
Glyccyrrhyza Glabra Extract
Rosa Canina Extract
Betaine
Algin
Sodium Hyaluronate (high-molecular)
Tocopherol (mixed), Beta-Sitosterol
Application
Apply the fluid on cleansed face with patting movements.
To prevent stretching and damage to the skin, apply the fluid along the massage lines. For this:
Apply a small portion of the fluid on the nose bridge, nose and chin.
Divide the fluid from the nose bridge to the hairline and from the nose bridge to the temples.
Spread the fluid from nose to ear lobe with patting movements.
Spread the fluid from the top of the upper lip to the ear lobe and from the chin to the ear lobe.
Do not forget about the neck and decollete - the skin in these places also need your care.
As a base for make-up, apply the fluid for 20-30 minutes before makeup.
Can be used for extra moisturizing over day and / or night cream.
In the cold season, put the fluid at least in 30 minutes before going outside.
When you first receive your airless pump bottle, pump the top a few times and your product should start dispensing normally. Some bottles may take up to 10-30 pumps.  If you're not getting any product after pumps, we recommend priming the pump. There is a disk that pushes the product to the top which can become stuck, and you may need to bang the bottom of the bottle 3-4 times on a flat-hard surface to loosen the disk, then hold your bottle upside-down and gently tap the top of the bottle against a flat surface. This should get the product moving.