Open hours
Mon - Fri: 9.00 - 19.00
Sat - Sun: day off
Shipping
Courier (Minsk)
BelPost Int.
Pick up from store (Minsk)
Belarus Post Tracking
EMS
Product Description
All Skin Types
with silk proteins and calamus extract

Restores hair structure

• 

Brings glossiness

 • 

Boosts volume
---
Silk proteins envelop and thicken the hair, restoring its elasticity and strength. A complex of valuable cosmetic oils and succinic acid cares for the scalp and makes the hair shiny and crumbly. Extracts of herbs calamus, nettle, succession and birch buds prevent dandruff and normalize the oiliness of the skin.
Your Reviews
Людмила
Skin type: Комбинированный
Age: 36
Анастасия
Skin type: жирный
Age: 30
Main Ingredients
Behentrimonium Methosulfatе
Behentrimonium Methosulfatе  is a natural, emulsifying wax. This emulsifier is perfect for hair conditioner. It sinks in well leaving hair and the scalp moisturized, softens and smooths your strands after cleansing, makes your hair shinier without making hair greasy.  It makes the hair much easier to comb through, prevents static electricity.
Betaine
Betaine is a naturally derived ingredient, an amino acid.  Also known as Trimethylglycine or glycinebetaine. It is obtained from the process of making sugar out of sugar beets. Being an osmolyte, its structure allows to attract water and help maintain cell water balance. Betaine reduces the ability of water molecules to solvate proteins, thus stabilizing the native protein structures.  It primarily functions as a humectant and anti-irritant in cosmetic products, is prone to hydrogen bonding. It is identified as anti-melanogenic agent. Accumulated evidence has shown that betaine has anti-inflammatory functions in numerous diseases.
Betula Pubescens Extract
The plant extract of Betula provides anti-irritant, anti-oxidant and properties for hair and skin care preparations. It is used a light astringent, softening, calming, disinfecting agent. It helps balance the pH level, can improve the complexion increasing facial blood circulation. An ideal choice for sensitive and acne-prone skin.
Cetearyl Alcohol
Cetearyl Alcohol is a mixture of fatty alcohols derived from Coconut oils, consisting predominantly of cetyl and stearyl alcohols. It's used as a texture enhancer. Cetearyl Alcohol also contains emollient properties which leave skin soft and smooth. It works enhancing the delivery of nutrients into the deeper layers of the skin. Has disinfectant properties.
Glycerin
Glycerin is used in skincare as an emollient, slip agent, and humectant that absorbs moisture from the air and draws it into the skin. Moisturizes and restores skin, is necessary for healthy skin, encourages skin cell growth and regeneration.
Hypericum Perforatum Extract
In cosmetics it is known as a regenerating, anti-inflammatory and antiseptic agent. It is used for fatty and oily skin formulations.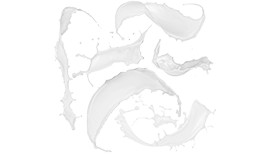 Lactic Acid
Rosehip oil is pressed from the fruit and seeds of the rose plant. Rosehip oil contains a wealth of essential fatty acids, including linoleic and linolenic acid. Fatty acids help to keep cell walls strong so that they don't lose water. Rosehip oil is loaded with skin-nourishing vitamins, phenols and antioxidants. It has been shown to have antiviral, antibacterial, and antifungal properties.This oil moisturizes, calms and repears the skin.
Lavandula Angustifolia Flower Water
The distillate created from the leaves of  Lavandula Angustifolia Flower.The studies have proved its regeneration to promote collagen synthesis and differentiation in the skin's fibroblasts. It has refreshing, cooling, soothing effect. Reduces inflammation. It has a strong smell of lavender.
Lonicera Caprifolium (Honeysuckle) Flower Extract or Lonicera Japonica (Honeysuckle) Flower Extract
This extract is known to optimize the metabolic processes in the skin, to strengthen the capillaries, to eliminate the itching and irritation. It has pronounced anti-inflammatory and deodorizing activities. Honeysuckle extract is a natural, plant-based preservative that is strongly anti-bacterial and anti-viral. It works to prevent fungal and bacterial growth in water based products, it is used as natural preservative in green cosmetics.
Macadamia Integrifolia Seed Oil
Macadamia Nut Oil is cold pressed form the nut of Macadamia integrifolia trees. Macadamia Nut Oil, Macadamia integrifolia, has one of the highest sources of the essential fatty acid, palmitoleic acid, found in animal oils he absolute best, plant alternative, to animal based oils, this is the oil of choice to replace the activity of Mink Oil, and even Shark Liver Oil. Macadamia Nut Oil is excellent in hair care. It eliminates flaking and moisturizes fragile, damaged, dry skin.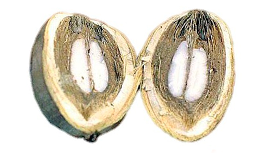 Orbignya Oleifera Seed Oil
Babassu oil is obtained from babassu plant, brazilian palm tree. It is creamy white oil which has similar properties to coconut oil. Babassu oil is one of the best emollients for all skin types. It soothes, moisturizes dry skin. Since it contains Vitamin E, it has antioxidant properties. It also has anti-inflammatory properties. For instance it is used for dry skin as well as for oily scalps and light inflammations or acne due to its antimicrobial and cooling effects.
Salvia Officinalis Extract
Due to its bactericidal and bacteriostatic properties it is commonly used in cosmetics for sensitive, baby skin and in medical cosmetics. It is reported to have antibiotic, antihypertensive, anti-inflammatory, antioxidant, astringent, antispasmodic, estrogenic and hypoglycemic properties. Therefore it act reducing inflammation and regulating sebum production. The extract has a relaxing and calming effect on the state of the nervous system and muscles, reducing stress accumulated during the day.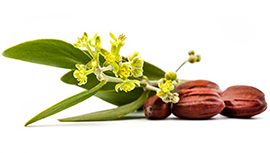 Simmondsia Chinensis Seed Oil
It is the liquid that comes from the seed of the Simmondsia chinensis (jojoba) plant, it's actually a liquid plant wax. The most notable benefits of jojoba oil include its ability to moisturize the hair, prevent hair loss, reduce inflammation, prevent acne, soothe sunburn, rejuvenate the skin, eliminate dandruff, fight free radical damage, boost the immune system, and speed up the healing process. It can attack the underlying fungal, viral or bacterial infection and neutralize it quickly. Also jojoba oil benefit is that it plays the role of sebum and moisturizes our skin and hair when our body stops doing it naturally Jojoba oil removes sticky buildup or excess oil, too; it keeps your oil levels balanced. So, jojoba oil works as a protectant and cleanser.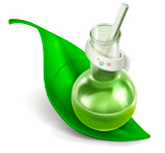 Squalene
Squalene are natural components of human sebum, a mixture of lipids produced by glands in the skin. It is used in cosmetics to reduce trans-epidermal water loss (TEWL) or prevent moisture loss, and to restore the skin's suppleness and flexibility. It reducees the oxidative damage to the skin due to exposure to UV light and prevents pigmentation.
Thymus Vulgaris Extract
Thyme leaf extract has antimicrobial properties, ideal for the care of acne. It is also used as a natural preservative.It is known to have pronounced tonifying, antibacterial and anti-inflammatory effects. It is used to clean the skin, to get rid inflammatory processes, to increase the complexion.сы.
Tocopherol (mixed), Beta-Sitosterol
Tocopherols are another group of chemicals that make up the vitamin E family. Tocotrienols target specific free radicals and sources of inflammation, however. Applied to skin, it is considered a good moisturizing and skin-soothing ingredient. Beta-Sitosterol ia a fatty acid-type ingredient derived from plants. Beta-sitosterol occurs naturally in many fruits, vegetables, nuts, and seeds. It is similar to cholesterol, which occurs naturally in skin. It Improves an epitelization, ptotecks from UV-rays.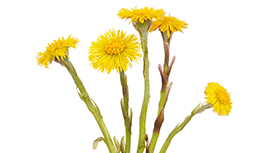 Tussilago Farfara Extract
Coltsfoot is commonly used to reduce inflammation. It also helps condition the skin and reduces the oxidative stress on it. Due to its anti-bacterial properties Coltsfoot is used as an anti-septic for all types of external wounds, including insect bites, it is suitable for oily and acne-prone skin.
Urtica Dioica Extract
Urtica Dioica (Nettle) ExtractNettle extracts have been used in cosmetics because of the many benefits of their topical application for skin health. It is known to provide regenerating, healing, stimulating, anti-inflammatory, vitaminizing effects. It enhances the cell metabolism in the skin, stimulates blood circulation. By blocking DHT production, nettle extract  prevents age-related hair loss in men and women. Nutrient rich nettle with fatty acids and minerals such as iron, magnesium and zinc nourishes the hair follicles to promote new hair growth, to protect against UV rays, to prevent and to eliminate dandruff.
Water
Гидролизат протеинов шёлка
Незаменимый компонент для молодости кожи – источник ценных аминокислот: глютамата, глицина, серина, аланина, треонина, валина, фенилаланина, цистина, лизина и пралина, а также фиброитина.
Лимонен
Компонент эфирных масел. Требует обязательного указания в INCI, если присутствует в эфирных маслах, входящих в соств косметики. В качестве отдельного ингредиента используется как ароматизатор или отдушка с запахом цитрусовых.
Линалоол
Компонент эфирных масел. Требует обязательного указания в INCI, если присутствует в эфирных маслах, входящих в соств косметики. В качестве отдельного ингредиента используется как ароматизатор или отдушка с запахом бергамота или французкой лаванды.
Цитрат меди
Соль меди и лимонной кислоты. Натуральный консервант и антисептик с широким спектром действия по отношению к бактериям, вирусам, грибкам. Не вызывает аллергических реакций и не связывается с клетками человеческого тела. Воздействует только на специфические мембраны микроорганизмов, препятсвтуя их дыханию, питанию и размножению. Распадается в окружающей среде.
Цитрат серебра
Соль серебра и лимонной кислоты. Натуральный консервант и антисептик с широким спектром действия по отношению к бактериям, вирусам, грибкам. Не вызывает аллергических реакций и не связывается с клетками человеческого тела. Воздействует только на специфические мембраны микроорганизмов, препятсвтуя их дыханию, питанию и размножению. Распадается в окружающей среде.
Экстракт корня аира
Содержит богатый комплекс фитонцидов, смол, эфирных масел, кислот, в т.ч. витамин С, йода и крахмала и т.д. Обладает сильным стимулирующим действием для роста и укрепления волос волос.  Надёжно обвлоакивает волосы, защищая их от повреждений, придаёт им блеск и эластичность, уменьшает ломкость. Благотворно воздействует на кожу головы, уменьшая перхоть и очищая и регулируя жирность. Используется в уходе за коежй головый с себореей.
Экстракт череды
Благодаря своим многообразным биологически активным веществам обладает успокаивающим, обезболивающим, дезинфицирующим, противовоспалительным, ранозаживляющим, гипотензивным, общеукрепляющим действиями. Купание в ванночках с отваром череды является традиционным вариантом ухода за младенческой и детской кожей.
Эфирное масло лаванды
Эфирное масло для проблемной чувствительной кожи с сильным антисептическим действием. Тонизирует, освежает, уменьшает зуд и покраснение кожи.
Эфирное масло можжевельника
Способствует быстрой регенерации тканей - заживлению гнойных ран, фурункулов, порезов, экзем и стоматита. Повышает циркуляцию крови во всех слоях кожи.
Янтарная кислота
Усиливает местное кровеобращение, вызывает прилив крови к волосяным фолликулам, чем значительно стимулирует их питание и рост волос. Удлиняется цикл роста волоса и уменьшается выпадение, пробуждаются спящие волосяные луковицы. Под воздействием янтарной кислоты волос формируется более плотным, эластичным и более окрашенным. Одновременно антиоксидантная активность ЯК защищает волосы от повреждения смогом и ультрафиолетом.
INCI:
Aqua, Lavandula Angustifolia Flower Water, Behentrimonium Methosulfate, Orbygnia Oleifera Seed Oil, Сetearyl Alcohol, Hydrolyzed Silk, Glycerin, Betain, Silver Citrate, Copper Citrate, Lonicera Caprifolium (Honeysuckle) Flower Extract (and) Lonicera Japonica (Honeysuckle) Flower Extract, Simmondsia Chinensis Seed Oil, Macadamia Integrifolia Seed Oil, Succinic acid, Bidens Tripartita Extract, Tocopherol (mixed), Beta-Sitosterol, Squalene, Hypericum Perforatum Extract, Tussilago Farfara Extract, Thymus Serpyllum Extract, Urtica Dioica Extract, Betulla Verrucosa Extract, Juniperus Communis Fruit Oil, Acorus Calamus Extract, Lavandula Angustifolia Herb Oil, Lactic Acid, Salvia Officinalis Extract, Linalool, Limonene
Active Ingredients
Behentrimonium Methosulfate
Hydrolyzed Silk
Silver Citrate
Succinic acid
Complex of herbal extracts
Application
Use: apply on the scalp and clean wet hair, keep for 5-15 minutes, rinse.
Contraindications: individual intolerance to the components.